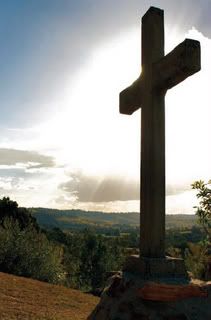 ...I'm going to give it a try for the first time since 1981. Unless an emergency call comes in (and I have, uh, about thirty years of Easter Sunday sermons ready, although I would warn anyone that they are all on the same subject), I'm a happy pew sitter this Sunday.
Wonder what will happen?
Will the pastor cajole the suddenly swelled crowd in their Easter finest for not making it the other 51 Sundays or will he say, "I'm glad you are here...today...on the Day of the Resurrection...God bless you!" I rather like the latter approach.
I may skip the sunrise service this year...haven't decided. I always led them for the past ten consecutive years.
Will the pastor have anything new to say about the Resurrection. I hope not. The old story cannot be beat and sometime we preacher types overthink things and try and reinvent the wheel. Stick with "He is risen!" and you cannot go wrong.
Will the pastor have some stolen illustrations to use? Will he trot out the old stand-by illustrations that everyone has to have heard forever? Maybe not...but I wouldn't bet on it.
Will I beat the Methodists to the restaurant?
It's going to be an adventure Sunday and I'm not letting anything stand in the way of a great day.
Have a wonderful Easter Sunday (and give NAMB a rest...at least until next week).